Quality
Durus Industrial uses a complete team effort that focuses on the success of the company, our projects, and our clients.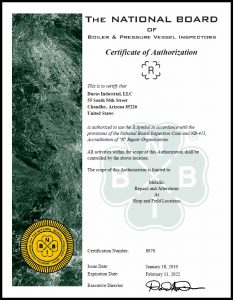 Durus has established an internal initiative to eliminate the need for rework by extensive training and continual improvement. Our  approach to Quality requires Durus to ensure project quality requirements are maintained throughout all phases of the project. We believe that "Quality starts before the work begins".
Durus Industrial supports our Quality initiatives by insuring that all processes and procedures are correct and Code requirements, manufacturer recommendations, project specifications, and industry standards are met. We have set a goal to provide the best quality in the industry and to use each job as an example of how things can, and should be done.
Durus Industrial has in house personnel that are qualified to perform:
Magnetic Particle (MT) Testing
Dye Penetrant (PT) Testing
On staff Certified Welding Inspector (CWI) with 20 years in the industry
Durus Industrial is a certificate holder of the National Board R Stamp for the repair and/or alteration of boilers, pressure vessels, and other pressure-retaining items.